Gallo Ciego
Gallo Ciego is a milonga in NYC hosted by Robin Thomas and Kim Dai.
Fridays 8:30pm-12:30am at the Ukrainian East Village Restaurant. 140 2nd Ave, New York, NY
Drop in classes for beginners starting tango begin on Friday, February 25th from 7:30-8:30pm before the Milonga!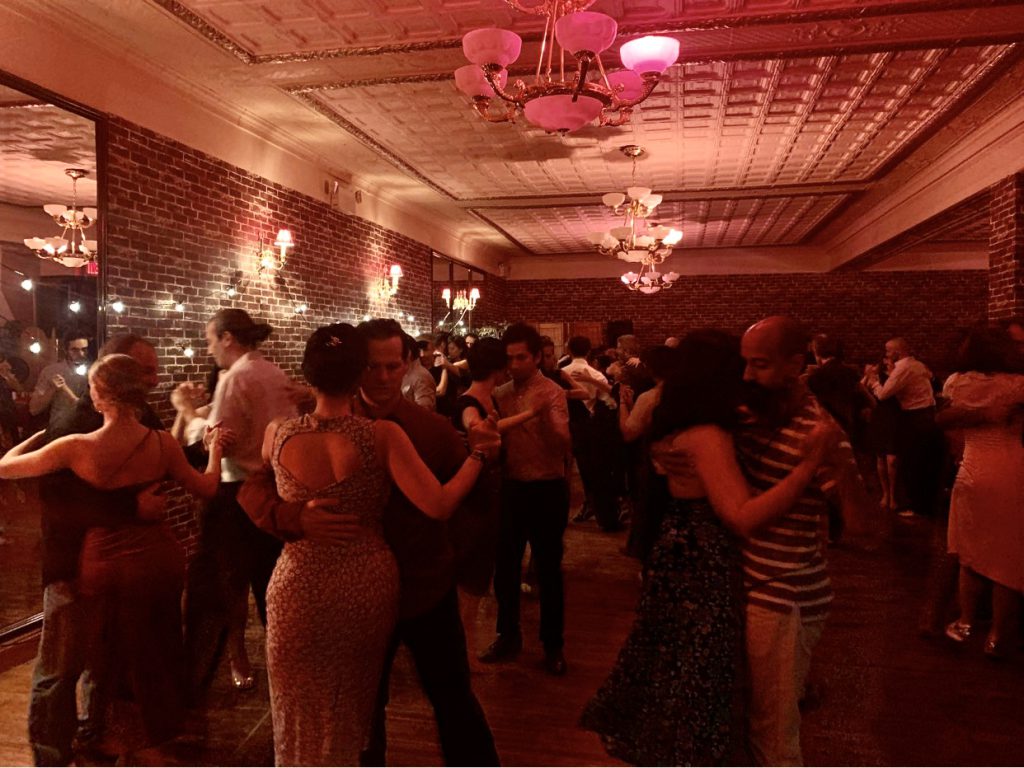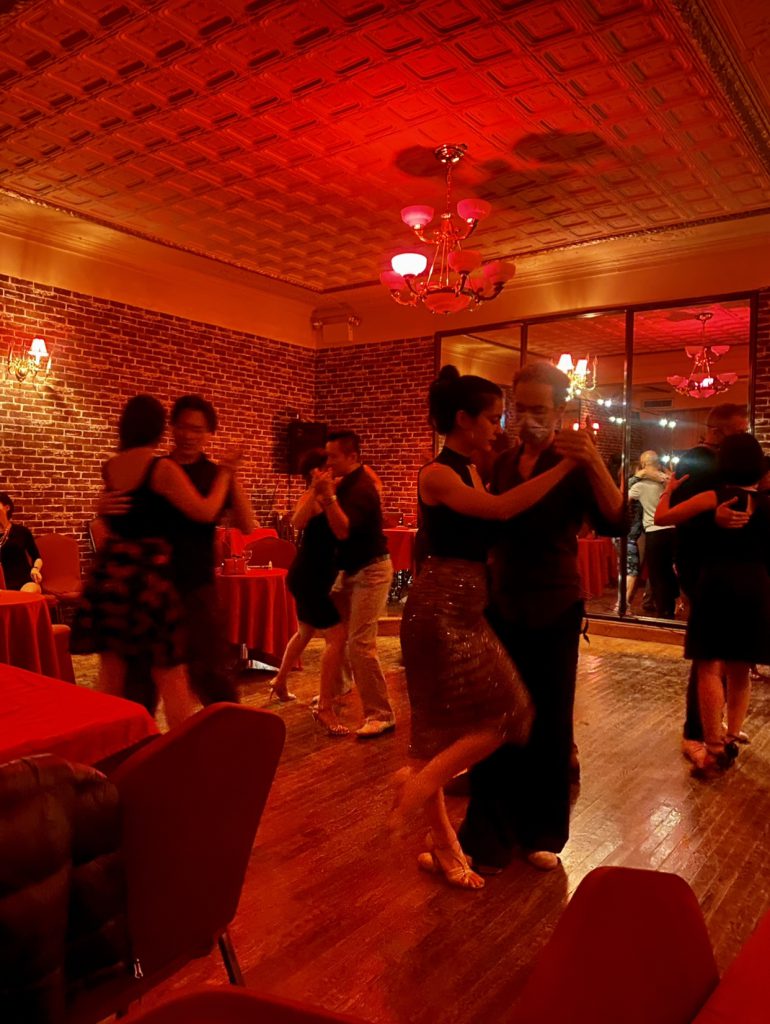 Nocturne
Robin hosted Nocturne the 3rd Saturday of each month for 14 years.
This milonga was more than a regular milonga — it was like a mini-festival, drawing dancers from all over the country. Robin ensured that there were always exciting dancers, great snacks, wonderful music, and a friendly atmosphere.
Invited guests…
Saturday February 15th, 2020 @ DanceSport: 230 West 39th St, New York, NY

host & DJ Robin Thomas
class & performance by Cyrena Drusine & Steinar Refsdal

Saturday January 18th, 2020 @ DanceSport: 230 West 39th St, New York, NY

host Robin Thomas
guest DJ Amy Zhou
class & performance by Andres Amarillo & Meredith Klein

Saturday December 21st, 2019 @ DanceSport: 230 West 39th St, New York, NY

host & DJ Robin Thomas
class & performance by Fernanda Ghi & Martin Almiron

Saturday November 16th, 2019 @ DanceSport: 230 West 39th St, New York, NY

host & DJ Robin Thomas
performance by Andres Bravo & Sarita Apel

Saturday October 19th, 2019 @ DanceSport: 230 West 39th St, New York, NY

host Robin Thomas
DJ Georges Naasan
class & performance by Carla Marano & Octavio Fernandez

Saturday September 21st, 2019 @ DanceSport: 230 West 39th St, New York, NY

host & DJ Robin Thomas
class by Eric Jorissen
performance by Rino Fraina & Graziella Pulverenti

Saturday August 21st, 2019 @ DanceSport: 230 West 39th St, New York, NY

host & DJ Robin Thomas
class & performance by Paula Duarte & Michael Nadtochi

Saturday July 20th, 2019 @ DanceSport: 230 West 39th St, New York, NY

host & DJ Robin Thomas
class & performance by Guillermo Salvat & Miriam Lea Ziven

Saturday June 15th, 2019 @ DanceSport: 230 West 39th St, New York, NY

host Robin Thomas
class by Yaisuri Salamanca & John Hernan Raigosa

Saturday May 18th, 2019 @ DanceSport: 230 West 39th St, New York, NY

host & DJ Robin Thomas
class & performance by Daniela Pucci & Luis Bianchi

Saturday April 20th, 2019 @ DanceSport: 230 West 39th St, New York, NY

host Robin Thomas
class & performance by Yesica Esquivel & Ariel Leguizamon

Saturday March 16th, 2019 @ DanceSport: 230 West 39th St, New York, NY

host Robin Thomas
performance by Juan David Bedoya & Diana Suarez

Saturday February 16th, 2019 @ DanceSport: 230 West 39th St, New York, NY

host Robin Thomas
class & performance by Adriana Salgado & Orlando Reyes

Saturday January 19th, 2019 @ DanceSport: 22 West 34th St (btwn 5th & 6th Aves), New York, NY

host Robin Thomas
class & performance by Florencia Borgnia & Marcos Pereira

Saturday December 15th, 2018 @ DanceSport: 22 West 34th St (btwn 5th & 6th Aves), New York, NY

host Robin Thomas
class & performance by Andres Bravo & Sarita Appel

Saturday November 17th, 2018 @ DanceSport: 22 West 34th St (btwn 5th & 6th Aves), New York, NY

host Robin Thomas
DJ Lampis
class & performance by Maya Grego & Martin Almiron

Saturday October 21st, 2018 @ DanceSport: 22 West 34th St (btwn 5th & 6th Aves), New York, NY

host Robin Thomas
DJ Jun Yi
class by Alex Krebs
performance: New York's Peleando Variacion competition

Saturday September 15th, 2018 @ DanceSport: 22 West 34th St (btwn 5th & 6th Aves), New York, NY

host & DJ Robin Thomas
performance by Sara Grdan & Ivan Terrazas

Saturday August 18th, 2018 @ DanceSport: 22 West 34th St (btwn 5th & 6th Aves), New York, NY

host & DJ Robin Thomas
class & performance by Maria Elena Ybarra & Naomi Harris

Saturday July 21st, 2018 @ DanceSport: 22 West 34th St (btwn 5th & 6th Aves), New York, NY

host Robin Thomas
class & performance by Gonzalo Bogado & Jimena Toñanez

Saturday June 16th, 2018 @ DanceSport: 22 West 34th St (btwn 5th & 6th Aves), New York, NY

host Robin Thomas
class & performance by Murat Erdemsel & Michelle Lamb

Saturday May 19th, 2018 @ DanceSport: 22 West 34th St (btwn 5th & 6th Aves), New York, NY

host Robin Thomas
class & performance by Adriana Salgado & Orlando Reyes

Saturday April 21st, 2018 @ DanceSport: 22 West 34th St (btwn 5th & 6th Aves), New York, NY

host Robin Thomas
class & performance by Adriana Salgado & Daniel Martinez Cavidad

Saturday March 17th, 2018 @ DanceSport: 22 West 34th St (btwn 5th & 6th Aves), New York, NY

host Robin Thomas
DJ Avik Basu
class & performance by Katherine Gorsuch & Marcelo Gutierrez

Saturday February 17th, 2018 @ DanceSport: 22 West 34th St (btwn 5th & 6th Aves), New York, NY

host Robin Thomas
class & performance by Carolina Jaurena & Andres Bravo

Saturday January 20th, 2018 @ DanceSport: 22 West 34th St (btwn 5th & 6th Aves), New York, NY
Saturday December 16th, 2017 @ DanceSport: 22 West 34th St (btwn 5th & 6th Aves), New York, NY

host Robin Thomas
guest DJ Jun Yi
class & performance by Victoria Lim & London Hong

Saturday November 18th, 2017 @ DanceSport: 22 West 34th St (btwn 5th & 6th Aves), New York, NY

host & DJ Robin Thomas
special guests Sara Grdan & Ivan Terrazas

Saturday October 21st, 2017 @ DanceSport: 22 West 34th St (btwn 5th & 6th Aves), New York, NY

host & DJ Robin Thomas
special guest Alex Krebs

Saturday September 16th, 2017 @ DanceSport: 22 West 34th St (btwn 5th & 6th Aves), New York, NY

host & DJ Robin Thomas
performance by Ariel Leguizamon & Yesica Esquivel

Saturday August 19th, 2017 @ DanceSport: 22 West 34th St (btwn 5th & 6th Aves), New York, NY

host & DJ Robin Thomas
performance by Hernan Prieto & Daniela Roig

Saturday July 15th, 2017 @ DanceSport: 22 West 34th St (btwn 5th & 6th Aves), New York, NY

host & DJ Robin Thomas
performance by Claudio Gonzales & Julia Hiriart Urruty

Saturday June 18th, 2017 @ DanceSport: 22 West 34th St (btwn 5th & 6th Aves), New York, NY

host & DJ Robin Thomas
class & performance by Pablo Inza & Sofia Saborido

Saturday May 20th, 2017 @ DanceSport: 22 West 34th St (btwn 5th & 6th Aves), New York, NY

host & DJ Robin Thomas
class & performance by Tomas Corbalan & Yamila Ivonne

Saturday April 15th, 2017 @ DanceSport: 22 West 34th St (btwn 5th & 6th Aves), New York, NY

host & DJ Robin Thomas
class & performance by Maria & Gianpiero

Saturday March 18th, 2017 @ DanceSport: 22 West 34th St (btwn 5th & 6th Aves), New York, NY

host & DJ Robin Thomas
class & performance by Melina & Detlef

Saturday February 18th, 2017 @ DanceSport: 22 West 34th St (btwn 5th & 6th Aves), New York, NY

host Robin Thomas
guest DJ Angel Montero from Atlanta
class Robin Thomas

Saturday January 21st, 2017 @ DanceSport: 22 West 34th St (btwn 5th & 6th Aves), New York, NY

host Robin Thomas
guest DJ Luis Zuleta Benavides from Houston
class & performance by Adriana Salgado Neira & Daniel Martinez

Saturday December 17th, 2016 @ DanceSport: 22 West 34th St (btwn 5th & 6th Aves), New York, NY

host & DJ Robin Thomas
class & performance by Pamela Ramos & Theddy Lizama

Saturday November 19th, 2016 @ DanceSport: 22 West 34th St (btwn 5th & 6th Aves), New York, NY

host & DJ Robin Thomas
class & performance by Sara & Ivan

Saturday October 15th, 2016 @ DanceSport: 22 West 34th St (btwn 5th & 6th Aves), New York, NY

host & DJ Robin Thomas
class & performance by London Hong & Victoria Lim

Saturday September 17th, 2016 @ DanceSport: 22 West 34th St (btwn 5th & 6th Aves), New York, NY

host & DJ Robin Thomas
class & performance by Alex Krebs & Michelle Lamb

Saturday August 20th, 2016 @ DanceSport: 22 West 34th St (btwn 5th & 6th Aves), New York, NY

host & DJ Robin Thomas
performance by Cecilia Piccinni & Ricardo Biggeri
class by Robin Thomas & Shakti Lafontan

Saturday July 16th, 2016 @ DanceSport: 22 West 34th St (btwn 5th & 6th Aves), New York, NY

host & DJ Robin Thomas
performance by Gianpiero Ya Galdi & Maria Filali

Saturday June 18th, 2016 @ DanceSport: 22 West 34th St (btwn 5th & 6th Aves), New York, NY

host & DJ Robin Thomas
performance by Martin Maldonado & Maurizio Ghella

Saturday May 21st, 2016 @ DanceSport: 22 West 34th St (btwn 5th & 6th Aves), New York, NY

host & DJ Robin Thomas
11th Anniversary Celebration!

Saturday April 16th, 2016 @ DanceSport: 22 West 34th St (btwn 5th & 6th Aves), New York, NY

host & DJ Robin Thomas
performance by Yamila Yvonne & Tomas Corbalan

Saturday March 19th, 2016 @ DanceSport: 22 West 34th St (btwn 5th & 6th Aves), New York, NY

host & DJ Robin Thomas
performance by Andres Bravo & Carolina Juarena AND Orlando Reyes & Adriana Salgado

Saturday February 20th, 2016 @ DanceSport: 22 West 34th St (btwn 5th & 6th Aves), New York, NY
Saturday January 16th, 2016 @ DanceSport: 22 West 34th St (btwn 5th & 6th Aves), New York, NY
Saturday December 19th, 2015 @ DanceSport: 22 West 34th St (btwn 5th & 6th Aves), New York, NY

host & DJ Robin Thomas
class & performance by Kat Gorsuch & Andres Amarillo

Saturday November 22nd, 2015 @ DanceSport: 22 West 34th St (btwn 5th & 6th Aves), New York, NY

host & DJ Robin Thomas
class & performance by Maria Elena Ybarra & Ariel J Saavedra

Saturday October 17th, 2015 @ DanceSport: 22 West 34th St (btwn 5th & 6th Aves), New York, NY

host & DJ Robin Thomas
class & performance by Ivan Terazzas & Sara Grdan

Saturday September 18th, 2015 @ DanceSport: 22 West 34th St (btwn 5th & 6th Aves), New York, NY

host & DJ Robin Thomas
class by Alex Krebs
performance by Alex Krebs & Evan Griffiths

Saturday August 15th, 2015 @ DanceSport: 22 West 34th St (btwn 5th & 6th Aves), New York, NY

host & DJ Robin Thomas
class & performance by Claudio Villagra & Helena Fernandez

Saturday July 19th, 2015 @ DanceSport: 22 West 34th St (btwn 5th & 6th Aves), New York, NY

host Robin Thomas
DJ Shorey Myers
performance by Michael Nadtochi & Eleonora Kalganova

Saturday June 20th, 2015 @ DanceSport: 22 West 34th St (btwn 5th & 6th Aves), New York, NY

host & DJ Robin Thomas
performance by Noelia Barsi & Leo Sardello

Saturday May 16th, 2015 @ DanceSport: 22 West 34th St (btwn 5th & 6th Aves), New York, NY

host Robin Thomas
DJ Ramu Pyreddy
class & performance by Yanick Wyler & Eugenia Parrilla

Saturday April 18th, 2015 @ DanceSport: 22 West 34th St (btwn 5th & 6th Aves), New York, NY

host & DJ Robin Thomas
performance by Virginia Pandolfi & Jonatan Aguero
class by Xavier Vanier & Jesse Roach

Saturday March 21st, 2015 @ DanceSport: 22 West 34th St (btwn 5th & 6th Aves), New York, NY

host & DJ Robin Thomas
performance by Melina Brufman & Sergio Diaz Thomas

Saturday February 21st, 2015 @ DanceSport: 22 West 34th St (btwn 5th & 6th Aves), New York, NY

host & DJ & class taught by Robin Thomas !

Saturday January 17th, 2015 @ DanceSport: 22 West 34th St (btwn 5th & 6th Aves), New York, NY

host Robin Thomas
DJ Jay Abling
class & performance by Dominic Bridge & Cecilia Piccinni

Saturday December 20th, 2014 @ DanceSport: 22 West 34th St (btwn 5th & 6th Aves), New York, NY

host & DJ Robin Thomas
class & performance by Nick & Diana

Saturday November 15th, 2014 @ DanceSport: 22 West 34th St (btwn 5th & 6th Aves), New York, NY

host & DJ Robin Thomas
class & performance by Sara Grdan & Ivan Terrazas

Saturday October 19th, 2014 @ DanceSport: 22 West 34th St (btwn 5th & 6th Aves), New York, NY

host Robin Thomas
DJ Jay Abling
class by Xavier Vanier & Michelle Lamb
performance by Leandro Oliver & Laila Rezk

Saturday September 20th, 2014 @ DanceSport: 22 West 34th St (btwn 5th & 6th Aves), New York, NY

host & DJ Robin Thomas
class by Alex Krebs
performance by Alex Krebs & Evan Griffiths

Saturday August 17th, 2014 @ DanceSport: 22 West 34th St (btwn 5th & 6th Aves), New York, NY

host & DJ Robin Thomas
class by Luis Adrian Bianchi & Daniela Pucci
performance by Gabriel Misse & Analia Centurion

Saturday July 19th, 2014 @ DanceSport: 22 West 34th St (btwn 5th & 6th Aves), New York, NY

host & DJ Robin Thomas
class & performance by Edwin Cardenas & Rita de Blasio

Saturday June 21st, 2014 @ DanceSport: 22 West 34th St (btwn 5th & 6th Aves), New York, NY

host Robin Thomas, jet lagged
guest DJ Travis Widrick
class by Eric Lindgren

Saturday May 17th, 2014 @ DanceSport: 22 West 34th St (btwn 5th & 6th Aves), New York, NY

guest host Jesse Roach
guest DJ Shorey Myers
class & performance by Martin Maldonado & Maurizio Ghella
absent Robin Thomas who will be in China

Saturday April 19th, 2014 @ DanceSport: 22 West 34th St (btwn 5th & 6th Aves), New York, NY

host Robin Thomas
guest DJ Jay Abling
class & performance by Sven & Sonja from Belgium
and performance by El Chino & Kat Gorsuch

Saturday March 15th, 2014 @ DanceSport: 22 West 34th St (btwn 5th & 6th Aves), New York, NY

host & DJ Robin Thomas
class by Robin Thomas
performance by Roberto Herrera & Laura Legazcue

Saturday February 15th, 2014 @ DanceSport: 22 West 34th St (btwn 5th & 6th Aves), New York, NY

host & DJ Robin Thomas
class by Robin Thomas
performance by Carolina Jaurena & Andres Bravo

Saturday January 18th, 2014 @ DanceSport: 22 West 34th St (btwn 5th & 6th Aves), New York, NY

host Robin Thomas
guest DJ Travis Widrick
class & performance by Geoffre Dominessy & Maria Elena Ybarra

Saturday December 21st, 2013 @ DanceSport: 22 West 34th St (btwn 5th & 6th Aves), New York, NY

host & DJ Robin Thomas
class & performance by Homer & Cristina Ladas

Saturday November 16th, 2013 @ DanceSport: 22 West 34th St (btwn 5th & 6th Aves), New York, NY

host & DJ Robin Thomas
class & performance by Ivan Terrazas & Sara Grdan

Saturday October 19th, 2013 @ DanceSport: 22 West 34th St (btwn 5th & 6th Aves), New York, NY

host & DJ Robin Thomas
class & performance by Carlos & Eliana

Saturday September 21st, 2013 @ DanceSport: 22 West 34th St (btwn 5th & 6th Aves), New York, NY

host Robin Thomas
DJ Shorey Myers
class & performance by Alex Krebs & Rebecca Rorick Smith

Saturday August 17th, 2013 @ DanceSport: 22 West 34th St (btwn 5th & 6th Aves), New York, NY

host Robin Thomas
DJ Lung-Kuei Lin
class & performance by Luis Bianchi & Daniela Pucci

Saturday July 20th, 2013 @ DanceSport: 22 West 34th St (btwn 5th & 6th Aves), New York, NY

host & DJ Robin Thomas
class & performance by Cristian Correa & Angeles Chanaha

Saturday June 15th, 2013 @ DanceSport: 22 West 34th St (btwn 5th & 6th Aves), New York, NY

host & DJ Robin Thomas
class & performance by Tate Di Chiazza & Celi Arias

Saturday May 18th, 2013 @ DanceSport: 22 West 34th St (btwn 5th & 6th Aves), New York, NY

host Robin Thomas
guest DJ Lung-Kuei Lin
class & performance by Luis Bianchi & Daniela Pucci

Saturday April 20th, 2013 @ DanceSport: 22 West 34th St (btwn 5th & 6th Aves), New York, NY

host & DJ Robin Thomas
class & performance by Gustavo Benzecry Sabá & Maria Olivera

Saturday March 16th, 2013 @ DanceSport: 22 West 34th St (btwn 5th & 6th Aves), New York, NY

host & DJ Robin Thomas
class & performance by Hugo Mastrolorenzo & Angeles Chanaha

Saturday February 16th, 2013 @ DanceSport: 22 West 34th St (btwn 5th & 6th Aves), New York, NY

host & DJ Robin Thomas
class & performance by Hiba Faisal & René Hellemons

Saturday January 19th, 2013 @ DanceSport: 22 West 34th St (btwn 5th & 6th Aves), New York, NY

host & DJ Robin Thomas
class by Hernan Prieto & Daniela Roig
performance by Mariano "Chicho" Frumboli & Juana Sepulveda !!!

Saturday December 15th, 2012 @ DanceSport: 22 West 34th St (btwn 5th & 6th Aves), New York, NY

host & DJ Robin Thomas
class & performance by Orlando Reyes & Adriana Salgado

Saturday November 17th, 2012 @ DanceSport: 22 West 34th St (btwn 5th & 6th Aves), New York, NY

host Robin Thomas
guest DJ Avik Basu
class & performance by Ivan Terrazas & Sara Grdan

Saturday October 20th, 2012 @ DanceSport: 22 West 34th St (btwn 5th & 6th Aves), New York, NY

host & DJ Robin Thomas
class & performance by Murat & Michelle Erdemsel

Saturday September 15th, 2012 @ DanceSport: 22 West 34th St (btwn 5th & 6th Aves), New York, NY

host & DJ Robin Thomas
performance by Alex Krebs & Rebecca Rorick Smith
class by Eric Jorissen & Alex Krebs

Saturday August 18th, 2012 @ DanceSport: 22 West 34th St (btwn 5th & 6th Aves), New York, NY

host & DJ Robin Thomas
performance & class by Adam & Ciko

Saturday July 21st, 2012 @ DanceSport: 22 West 34th St (btwn 5th & 6th Aves), New York, NY

host & DJ Robin Thomas
performance by Carlos Barrionuevo & Mayte Valdes

Saturday June 16th, 2012 @ DanceSport: 22 West 34th St (btwn 5th & 6th Aves), New York, NY

host Robin Thomas
class & performance by Tomas Howlin & Shorey Myers

Saturday May 19th, 2012 @ DanceSport: 22 West 34th St (btwn 5th & 6th Aves), New York, NY

host & DJ Robin Thomas
class & performance by Guillermo & Ciko

Saturday April 21st, 2012 @ DanceSport: 22 West 34th St (btwn 5th & 6th Aves), New York, NY

host Robin Thomas
guest DJ Ramu Pyreddy
class & performance by Javier Antar & Kara Wenham

Saturday March 17th, 2012 @ DanceSport: 22 West 34th St (btwn 5th & 6th Aves), New York, NY

host & DJ Robin Thomas
class & performance by Diego Blanco & Ana Padron

Saturday February 18th, 2012 @ DanceSport: 22 West 34th St (btwn 5th & 6th Aves), New York, NY

host & DJ Robin Thomas
class & performance by Eric Lindgren & Rebecca Rorick Smith from Boston

Saturday January 20th, 2012 @ DanceSport: 22 West 34th St (btwn 5th & 6th Aves), New York, NY

host & DJ Robin Thomas
class & performance by Fernando Troncoso from La Plata & Sabina Wolfson from New York City

Saturday December 17th, 2011 @ DanceSport: 22 West 34th St (btwn 5th & 6th Aves), New York, NY

host & DJ Robin Thomas
class & performance by Maria Blanco & Sebastian Acosta

Saturday November 19th, 2011 @ DanceSport: 22 West 34th St (btwn 5th & 6th Aves), New York, NY

host & DJ Robin Thomas
class & performance by Ivan & Sara

Saturday October 15th, 2011 @ DanceSport: 22 West 34th St (btwn 5th & 6th Aves), New York, NY

host & DJ Robin Thomas
class & performance by Homer & Cristina Ladas

Saturday September 17th, 2011 @ DanceSport: 22 West 34th St (btwn 5th & 6th Aves), New York, NY

host & DJ Robin Thomas
class & performance by Jaimes Friedgen & Christa Rodriguez

Saturday August 20th, 2011 @ DanceSport: 22 West 34th St (btwn 5th & 6th Aves), New York, NY

host & DJ Robin Thomas
class & performance by Lucas Molina Gazcon & Cecilia Piccinni

Saturday July 16th, 2011 @ DanceSport: 22 West 34th St (btwn 5th & 6th Aves), New York, NY

host & DJ Robin Thomas
class & performance by Dominic Bridge & Maria Elena Ybarra

Saturday June 18th, 2011 @ DanceSport: 22 West 34th St (btwn 5th & 6th Aves), New York, NY

host & DJ Robin Thomas
class & performance by Kat Gorsuch & Adam Hoopengardner

Saturday May 21st, 2011 @ DanceSport: 22 West 34th St (btwn 5th & 6th Aves), New York, NY

host & DJ Robin Thomas
class & performance by Ivan Inofre & Cyrena Drusine

Saturday April 16th, 2011 @ DanceSport: 22 West 34th St (btwn 5th & 6th Aves), New York, NY
Saturday March 19th, 2011 @ DanceSport: 22 West 34th St (btwn 5th & 6th Aves), New York, NY

host & DJ Robin Thomas
performance Luis & Daniela

Saturday February 19th, 2011 @ DanceSport: 22 West 34th St (btwn 5th & 6th Aves), New York, NY

host & DJ Robin Thomas
performance & class by Adam & Ciko

Saturday January 15th, 2011 @ DanceSport: 22 West 34th St (btwn 5th & 6th Aves), New York, NY

host & DJ Robin Thomas
performance & class by Daniela Roig & Hernan Prieto from Buenos Aires

Saturday December 18th, 2010 @ DanceSport: 22 West 34th St (btwn 5th & 6th Aves), New York, NY

host & DJ Robin Thomas
performance & class by Brian Nguyen & Yuliana Basmajyan from LA

Saturday November 20th, 2010 @ DanceSport: 22 West 34th St (btwn 5th & 6th Aves), New York, NY

host & DJ Robin Thomas
performance & class by Jorge Nel

Saturday October 16th, 2010 @ DanceSport: 22 West 34th St (btwn 5th & 6th Aves), New York, NY

host & DJ Robin Thomas
performance & class by Mila Vigdorova & Dani Tuero

Saturday September 18th, 2010 @ DanceSport: 22 West 34th St (btwn 5th & 6th Aves), New York, NY

host & DJ Robin Thomas
performance & class by Eric Lindgren & Rebecca Rorick Smith

Saturday August 21st, 2010 @ DanceSport: 22 West 34th St (btwn 5th & 6th Aves), New York, NY
Saturday July 17th, 2010 @ DanceSport: 22 West 34th St (btwn 5th & 6th Aves), New York, NY

host & DJ Robin Thomas
performance by Pablo Inza & Nazarena Colombo
class & performance by Andrew David Burt & Aja Fenn

Saturday June 19th, 2010 @ DanceSport: 22 West 34th St (btwn 5th & 6th Aves), New York, NY

host & DJ Robin Thomas
class & performance by Daniel Carlsson & Anna Solakius from Tango Kompaniet Malmö Sweden

Saturday May 15th, 2010 @ DanceSport: 22 West 34th St (btwn 5th & 6th Aves), New York, NY

host & DJ Robin Thomas
class & performance by Alex Krebs from Portland

Saturday April 17th, 2010 @ DanceSport: 22 West 34th St (btwn 5th & 6th Aves), New York, NY

host & DJ Robin Thomas
class & performance by Javier Antar & Kara Wenham

Saturday March 20th, 2010 @ DanceSport: 22 West 34th St (btwn 5th & 6th Aves), New York, NY

host & DJ Robin Thomas
class & performance by Carlos & Tova Moreno

Saturday February 20th, 2010 @ DanceSport: 22 West 34th St (btwn 5th & 6th Aves), New York, NY

host & DJ Robin Thomas
class & performance by Patricia & Matteo

Saturday January 16th, 2010 @ DanceSport: 22 West 34th St (btwn 5th & 6th Aves), New York, NY

host & DJ Robin Thomas
class by Nick Jones
performance by Nick Jones & Rebecca Shulman

Saturday December 19th, 2009 @ DanceSport: 22 West 34th St (btwn 5th & 6th Aves), New York, NY

host & DJ Robin Thomas
class & performance by Felipe & Rosa

Saturday November 21st, 2009 @ DanceSport: 22 West 34th St (btwn 5th & 6th Aves), New York, NY

host & DJ Robin Thomas
class & performance by Melina Sedó & Detlef Engel (Germany)

Saturday October 17th, 2009 @ DanceSport: 22 West 34th St (btwn 5th & 6th Aves), New York, NY

host & DJ Robin Thomas
class by Korey Ireland (Kansas City)
performance by Korey Ireland (Kansas City) & Brigitte Winkler (Berlin)

Saturday September 19th, 2009 @ DanceSport: 22 West 34th St (btwn 5th & 6th Aves), New York, NY

host & DJ Robin Thomas
class & performance by Nick Jones (Denver)

Saturday August 15th, 2009 @ DanceSport: 22 West 34th St (btwn 5th & 6th Aves), New York, NY

host Robin Thomas
guest DJ Shorey Myers from San Francisco
class & performance by Adam Hoopengardner & Cigdem Tanik (Ciko) from NYC
special guests Dave Jones & Ariel Amber from Denver and Damian Thompson from Australia

Saturday July 18th, 2009 @ @ DanceSport: 22 West 34th St (btwn 5th & 6th Aves), New York, NY

host & DJ Robin Thomas
class & performance by Sean Dockery & Charity Lebron from Berkeley

Saturday June 20th, 2009 @ DanceSport: 22 West 34th St (btwn 5th & 6th Aves), New York, NY

host & DJ Robin Thomas
class & performance by German Salvatierra

May 16th, 2009 @ DanceSport: 22 West 34th St (btwn 5th & 6th Aves), New York, NY

host & DJ Robin Thomas
class & performance by Murat & Michelle Erdemsel of DC / Turkey / Hawaii

April 18th, 2009 @ DanceSport: 22 West 34th St (btwn 5th & 6th Aves), New York, NY

host & DJ Robin Thomas
class & performance by René Hellemons & Hiba Faisal of London

March 21st, 2009 @ DanceSport: 22 West 34th St (btwn 5th & 6th Aves), New York, NY

host & DJ Robin Thomas
class by Robin Thomas & Kyla Mares
performance by Daniela Pucci & Luis Bianchi

February 21st, 2009 @ DanceSport: 22 West 34th St (btwn 5th & 6th Aves), New York, NY

host & DJ Robin Thomas
class & performance by Marcela & Stefano of Torino, Italy

January 17th, 2009 @ DanceSport: 22 West 34th St (btwn 5th & 6th Aves), New York, NY

host & DJ Robin Thomas
class & performance by Eric Lindgren & Rebecca Rorick Smith from Portland

December 20th, 2008 @ DanceSport (22 W 34th St, NYC)

host & DJ Robin Thomas
class & performance by Avik Basu of Ann Arbor

November 15th, 2008 @ DanceSport (22 W 34th St, NYC)

host & DJ Robin Thomas
class & performance by Somer & Agape

October 18th, 2008 @ DanceSport (22 W 34th St, NYC)

Obamalonga: Robin Thomas' Tango Noc turn Obama into president fundraiser!
guest host & DJ Adam Hoopengardner of NYC

September 20th, 2008 @ DanceSport (22 W 34th St, NYC)

host & DJ Robin Thomas
class & performance by Claudio & Agustina
performance by Raphael Baron & Renée Fieck of Montreal

August 16, 2008 @ DanceSport (22 W 34th St, NYC)

host & DJ Robin Thomas
class & performance by Nick Jones of Denver & Rebecca Shulman

July 19, 2008 @ DanceSport (22 W 34th St, NYC)

host & DJ & class by Robin Thomas
performance by Diana del Valle & Juan Camerlingo of Buenos Aires

June 21, 2008 @ DanceSport (22 W 34th St, NYC)

host & DJ Robin Thomas
class by Robin Thomas & Kyla Mares of NYC

May 17, 2008 @ DanceSport (22 W 34th St, NYC)

guest host Lung-Kuei Lin
DJ Evan Griffiths of NYC
class & performance by Silvina Valz & Oliver Kolker of Buenos Aires / NYC

April 19, 2008 @ DanceSport (22 W 34th St, NYC)

guest host & DJ Adam Hoopengardner of NYC
class & performance by Andres Amarilla & Meredith Klein of Buenos Aires / Philadelphia

March 15, 2008 @ DanceSport (22 W 34th St, NYC)

guest host & DJ Adam Hoopengardner of NYC
class & performance by Jennifer Olson & Damian Lobato

February 16, 2008 @ DanceSport (22 W 34th St, NYC)

guest host Ko Tanaka
DJ Tine Herreman of Yale/NYC
class by Andres Amarilla of Buenos Aires / Philadelphia

January 19th, 2008 @ DanceSport (22 W 34th St, NYC)

guest host Ko Tanaka
DJ Tine Herreman of Yale/NYC
class by Eric Lindgren
performance by Eric Lindgren & Rebecca Shulman

December 15th, 2007 @ Empire Dance (127 W 25th St, NYC)

guest hosts Adam & Ciko
DJ Felipe Martinez of Madrid / San Francisco
class & performance by Carol Horowitz & Julio Otero of Montreal
performance by Murat & Michelle Erdemsel of DC / Turkey / Hawaii

November 17th, 2007 @ Empire Dance (127 W 25th St, NYC)

guest host Ciko!
DJ Avik Basu of Ann Arbor
class & performance by Felipe Martinez & Rosa Corisco of Madrid / San Francisco
performance by Avik Basu of Ann Arbor & Marika Landry of Montreal

October 20th, 2007 @ Empire Dance (127 W 25th St, NYC)

guest host Sarah La Rocca
DJ Evan Griffiths of NYC
class & performance by Sharna Fabiano & Isaac Oboka of DC

September 15th, 2007 @ Empire Dance (127 W 25th St, NYC)

host & DJ Robin Thomas
Comme il Faut shoes sold by JuliaBella

August 18th, 2007 @ Empire Dance (127 W 25th St, NYC)

host Robin Thomas
DJ Shorey Myers of SF
class & performance by Nick Jones & partner of Denver
performance by Sharna Fabiano & Isaac Oboka of DC
with creative consultants Sherri & Stephane Villeneuve of Montreal and Carlos & Tova Moreno of Boston

July 21st, 2007 @ Empire Dance (127 W 25th St, NYC)

host Robin Thomas
class and performance by Sara Grdan & Ivan Terrazas
Comme il Faut shoes sold by JuliaBella

June 16th, 2007 @ Empire Dance (127 W 25th St, NYC)

host & DJ Robin Thomas
class by Oliver Kolker of Buenos Aires / NYC
performance by Silvina Valz & Oliver Kolker of Buenos Aires / NYC
Comme il Faut shoes sold by JuliaBella

May 19th, 2007 @ Empire Dance (127 W 25th St, NYC)

host Robin Thomas
DJ Shorey Myers
class and performance by Adam & Ciko of NYC

April 21st, 2007 @ Empire Dance (127 W 25th St, NYC)

host Robin Thomas
DJ Shorey Myers
class by Shorey Myers
performance by Evan Griffiths & Shorey Myers

February 17th, 2007 @ Empire Dance (127 W 25th St, NYC)

guest host Sarah La Rocca
DJ Ben Bogart of Providence
class and performance by Ben Bogart & Thuy Lam of Providence

January 20th, 2007 @ Empire Dance (127 W 25th St, NYC)

host & DJ Robin Thomas
class and performance by Carlos & Tova Moreno of Boston
performance by Adam & Ciko of NYC
beautiful shoes sold by Carrie Whipple of Portland
tarot and chart readings by Lexa Rosean

December 16th, 2006 @ Empire Dance (127 W 25th St, NYC)

host Robin Thomas
DJ Ramu Pyreddy of Ann Arbor
class and performance by Murat & Michelle Erdemsel of NYC/Turkey/DC/Hawaii
Comme il Faut shoes sold by JuliaBella
tarot and chart readings by Lexa Rosean

November 18th, 2006 @ Empire Dance (127 W 25th St, NYC)

host & DJ Robin Thomas
class and performance by Felipe Martinez & Rosa Corisco of San Francisco
performance by Sharna Fabiano of DC & Isaac Oboka of everywhere

October 21st, 2006 @ Empire Dance (127 W 25th St, NYC)

guest host & DJ Adam Hoopengardner
class and performance by Carlos & Tova Moreno of Boston

September 16th, 2006 @ Empire Dance (127 W 25th St, NYC)

host & DJ Robin Thomas
class and performance by Luis Bruni & Daniela Farfaras

August 19, 2006 @ Empire Dance (127 W 25th St, NYC)

host & DJ Robin Thomas
class and performance by Marika & Bulent of Montreal

July 15, 2006 @ Empire Dance (127 W 25th St, NYC)

host & DJ Robin Thomas
class by Evan Griffiths of Eugene, Oregon
performance by Evan Griffiths & Rebecca Shulman
performance by Burak of Chicago & Rui Saito of Buenos Aires/Tokyo
celebration of Rumiko's birthday!

June 17, 2006 @ Empire Dance (127 W 25th St, NYC)

host & DJ Robin Thomas
class and performance by Nick & Tara of Denver

May 20, 2006 @ Empire Dance (127 W 25th St, NYC)

host Robin Thomas
DJ Shorey Myers of Portland
class and performance by Sherri & Steph (aka "pants") of Montreal
performance by Isaac Oboka of Denver & Shorey Myers of Portland

April 15, 2006 @ Empire Dance (127 W 25th St, NYC)

host Robin Thomas
DJ Shorey Myers of Portland
class and performance by Greg & Lera of Seattle
performance by Felipe Martinez of San Francisco & Anne-Sophie Ville of DC
for your amusement, Isaac Oboka of Denver

February 18, 2006 @ Empire Dance (127 W 25th St, NYC)

guest host Adam Hoopengardner
DJ Tine Herreman of Yale/NYC
class and performance by Carlos & Tova Moreno

January 21, 2006 @ Empire Dance (127 W 25th St, NYC)

host & DJ Robin Thomas
class and performance by George & Jairelbhi Furlong
performance by Dario Da Silva & Claire

2005 @ Empire Dance (127 W 25th St, NYC) —

Hung-Yut Chen
Somer Surgit & Agape Pappas
Korey Ireland & Mila Vigdorova
Constantine Rueger
Murat Erdemsel & Mariana Galassi
Oliver Kolker & Luna Palacios
Ney Melo & Mariana Fresno
Jaimes Friedgen
Avik Basu
Ramu Pyreddy