Gallo Ciego
Gallo Ciego is a milonga in NYC hosted by Robin Thomas and Kim Dai.
Fridays 8:30pm-12:30am at the Ukrainian East Village Restaurant. 140 2nd Ave, New York, NY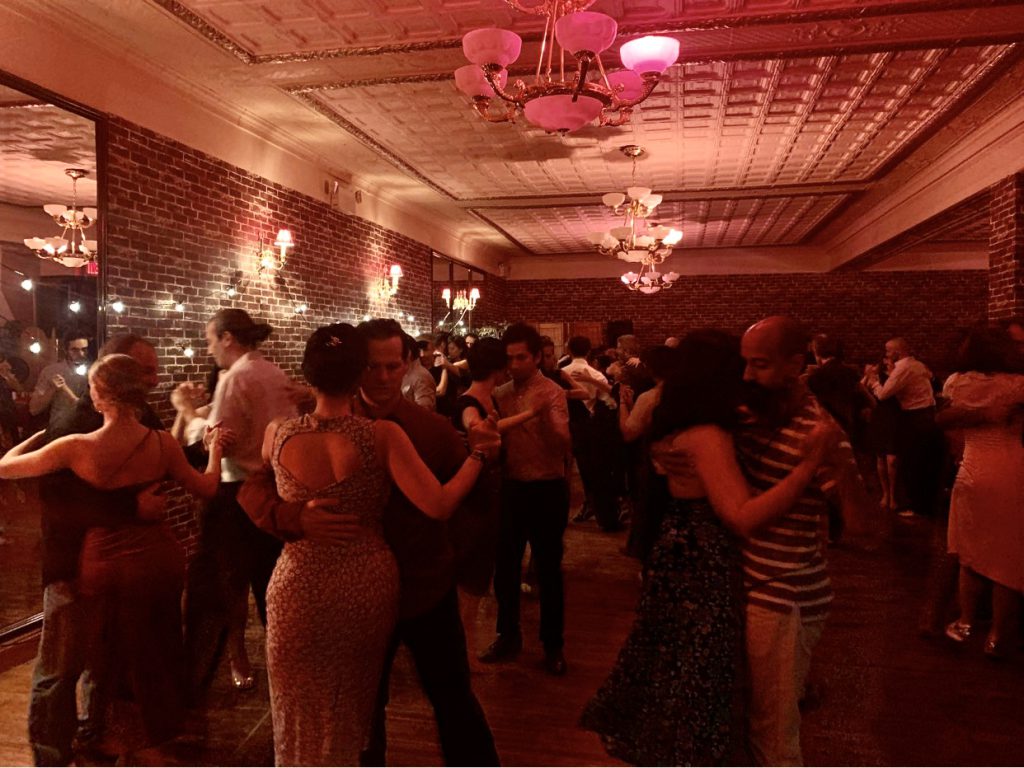 Nocturne
Robin hosted Nocturne the 3rd Saturday of each month for 14 years.
This milonga was more than a regular milonga — it was like a mini-festival, drawing dancers from all over the country. Robin ensured that there were always exciting dancers, great snacks, wonderful music, and a friendly atmosphere.
Invited guests…
Saturday February 15th, 2020 @ DanceSport: 230 West 39th St, New York, NY

host & DJ Robin Thomas
class & performance by Cyrena Drusine & Steinar Refsdal

Saturday January 18th, 2020 @ DanceSport: 230 West 39th St, New York, NY

host Robin Thomas
guest DJ Amy Zhou
class & performance by Andres Amarillo & Meredith Klein

Saturday December 21st, 2019 @ DanceSport: 230 West 39th St, New York, NY

host & DJ Robin Thomas
class & performance by Fernanda Ghi & Martin Almiron

Saturday November 16th, 2019 @ DanceSport: 230 West 39th St, New York, NY

host & DJ Robin Thomas
performance by Andres Bravo & Sarita Apel

Saturday October 19th, 2019 @ DanceSport: 230 West 39th St, New York, NY

host Robin Thomas
DJ Georges Naasan
class & performance by Carla Marano & Octavio Fernandez

Saturday September 21st, 2019 @ DanceSport: 230 West 39th St, New York, NY

host & DJ Robin Thomas
class by Eric Jorissen
performance by Rino Fraina & Graziella Pulverenti

Saturday August 21st, 2019 @ DanceSport: 230 West 39th St, New York, NY

host & DJ Robin Thomas
class & performance by Paula Duarte & Michael Nadtochi

Saturday July 20th, 2019 @ DanceSport: 230 West 39th St, New York, NY

host & DJ Robin Thomas
class & performance by Guillermo Salvat & Miriam Lea Ziven

Saturday June 15th, 2019 @ DanceSport: 230 West 39th St, New York, NY

host Robin Thomas
class by Yaisuri Salamanca & John Hernan Raigosa

Saturday May 18th, 2019 @ DanceSport: 230 West 39th St, New York, NY

host & DJ Robin Thomas
class & performance by Daniela Pucci & Luis Bianchi

Saturday April 20th, 2019 @ DanceSport: 230 West 39th St, New York, NY

host Robin Thomas
class & performance by Yesica Esquivel & Ariel Leguizamon

Saturday March 16th, 2019 @ DanceSport: 230 West 39th St, New York, NY

host Robin Thomas
performance by Juan David Bedoya & Diana Suarez

Saturday February 16th, 2019 @ DanceSport: 230 West 39th St, New York, NY

host Robin Thomas
class & performance by Adriana Salgado & Orlando Reyes

Saturday January 19th, 2019 @ DanceSport: 22 West 34th St (btwn 5th & 6th Aves), New York, NY

host Robin Thomas
class & performance by Florencia Borgnia & Marcos Pereira

Saturday December 15th, 2018 @ DanceSport: 22 West 34th St (btwn 5th & 6th Aves), New York, NY

host Robin Thomas
class & performance by Andres Bravo & Sarita Appel

Saturday November 17th, 2018 @ DanceSport: 22 West 34th St (btwn 5th & 6th Aves), New York, NY

host Robin Thomas
DJ Lampis
class & performance by Maya Grego & Martin Almiron

Saturday October 21st, 2018 @ DanceSport: 22 West 34th St (btwn 5th & 6th Aves), New York, NY

host Robin Thomas
DJ Jun Yi
class by Alex Krebs
performance: New York's Peleando Variacion competition

Saturday September 15th, 2018 @ DanceSport: 22 West 34th St (btwn 5th & 6th Aves), New York, NY

host & DJ Robin Thomas
performance by Sara Grdan & Ivan Terrazas

Saturday August 18th, 2018 @ DanceSport: 22 West 34th St (btwn 5th & 6th Aves), New York, NY

host & DJ Robin Thomas
class & performance by Maria Elena Ybarra & Naomi Harris

Saturday July 21st, 2018 @ DanceSport: 22 West 34th St (btwn 5th & 6th Aves), New York, NY

host Robin Thomas
class & performance by Gonzalo Bogado & Jimena Toñanez

Saturday June 16th, 2018 @ DanceSport: 22 West 34th St (btwn 5th & 6th Aves), New York, NY

host Robin Thomas
class & performance by Murat Erdemsel & Michelle Lamb

Saturday May 19th, 2018 @ DanceSport: 22 West 34th St (btwn 5th & 6th Aves), New York, NY

host Robin Thomas
class & performance by Adriana Salgado & Orlando Reyes

Saturday April 21st, 2018 @ DanceSport: 22 West 34th St (btwn 5th & 6th Aves), New York, NY

host Robin Thomas
class & performance by Adriana Salgado & Daniel Martinez Cavidad

Saturday March 17th, 2018 @ DanceSport: 22 West 34th St (btwn 5th & 6th Aves), New York, NY

host Robin Thomas
DJ Avik Basu
class & performance by Katherine Gorsuch & Marcelo Gutierrez

Saturday February 17th, 2018 @ DanceSport: 22 West 34th St (btwn 5th & 6th Aves), New York, NY

host Robin Thomas
class & performance by Carolina Jaurena & Andres Bravo

Saturday January 20th, 2018 @ DanceSport: 22 West 34th St (btwn 5th & 6th Aves), New York, NY
Saturday December 16th, 2017 @ DanceSport: 22 West 34th St (btwn 5th & 6th Aves), New York, NY

host Robin Thomas
guest DJ Jun Yi
class & performance by Victoria Lim & London Hong

Saturday November 18th, 2017 @ DanceSport: 22 West 34th St (btwn 5th & 6th Aves), New York, NY

host & DJ Robin Thomas
special guests Sara Grdan & Ivan Terrazas

Saturday October 21st, 2017 @ DanceSport: 22 West 34th St (btwn 5th & 6th Aves), New York, NY

host & DJ Robin Thomas
special guest Alex Krebs

Saturday September 16th, 2017 @ DanceSport: 22 West 34th St (btwn 5th & 6th Aves), New York, NY

host & DJ Robin Thomas
performance by Ariel Leguizamon & Yesica Esquivel

Saturday August 19th, 2017 @ DanceSport: 22 West 34th St (btwn 5th & 6th Aves), New York, NY

host & DJ Robin Thomas
performance by Hernan Prieto & Daniela Roig

Saturday July 15th, 2017 @ DanceSport: 22 West 34th St (btwn 5th & 6th Aves), New York, NY

host & DJ Robin Thomas
performance by Claudio Gonzales & Julia Hiriart Urruty

Saturday June 18th, 2017 @ DanceSport: 22 West 34th St (btwn 5th & 6th Aves), New York, NY

host & DJ Robin Thomas
class & performance by Pablo Inza & Sofia Saborido

Saturday May 20th, 2017 @ DanceSport: 22 West 34th St (btwn 5th & 6th Aves), New York, NY

host & DJ Robin Thomas
class & performance by Tomas Corbalan & Yamila Ivonne

Saturday April 15th, 2017 @ DanceSport: 22 West 34th St (btwn 5th & 6th Aves), New York, NY

host & DJ Robin Thomas
class & performance by Maria & Gianpiero

Saturday March 18th, 2017 @ DanceSport: 22 West 34th St (btwn 5th & 6th Aves), New York, NY

host & DJ Robin Thomas
class & performance by Melina & Detlef

Saturday February 18th, 2017 @ DanceSport: 22 West 34th St (btwn 5th & 6th Aves), New York, NY

host Robin Thomas
guest DJ Angel Montero from Atlanta
class Robin Thomas

Saturday January 21st, 2017 @ DanceSport: 22 West 34th St (btwn 5th & 6th Aves), New York, NY

host Robin Thomas
guest DJ Luis Zuleta Benavides from Houston
class & performance by Adriana Salgado Neira & Daniel Martinez

Saturday December 17th, 2016 @ DanceSport: 22 West 34th St (btwn 5th & 6th Aves), New York, NY

host & DJ Robin Thomas
class & performance by Pamela Ramos & Theddy Lizama

Saturday November 19th, 2016 @ DanceSport: 22 West 34th St (btwn 5th & 6th Aves), New York, NY

host & DJ Robin Thomas
class & performance by Sara & Ivan

Saturday October 15th, 2016 @ DanceSport: 22 West 34th St (btwn 5th & 6th Aves), New York, NY

host & DJ Robin Thomas
class & performance by London Hong & Victoria Lim

Saturday September 17th, 2016 @ DanceSport: 22 West 34th St (btwn 5th & 6th Aves), New York, NY

host & DJ Robin Thomas
class & performance by Alex Krebs & Michelle Lamb

Saturday August 20th, 2016 @ DanceSport: 22 West 34th St (btwn 5th & 6th Aves), New York, NY

host & DJ Robin Thomas
performance by Cecilia Piccinni & Ricardo Biggeri
class by Robin Thomas & Shakti Lafontan

Saturday July 16th, 2016 @ DanceSport: 22 West 34th St (btwn 5th & 6th Aves), New York, NY

host & DJ Robin Thomas
performance by Gianpiero Ya Galdi & Maria Filali

Saturday June 18th, 2016 @ DanceSport: 22 West 34th St (btwn 5th & 6th Aves), New York, NY

host & DJ Robin Thomas
performance by Martin Maldonado & Maurizio Ghella

Saturday May 21st, 2016 @ DanceSport: 22 West 34th St (btwn 5th & 6th Aves), New York, NY

host & DJ Robin Thomas
11th Anniversary Celebration!

Saturday April 16th, 2016 @ DanceSport: 22 West 34th St (btwn 5th & 6th Aves), New York, NY

host & DJ Robin Thomas
performance by Yamila Yvonne & Tomas Corbalan

Saturday March 19th, 2016 @ DanceSport: 22 West 34th St (btwn 5th & 6th Aves), New York, NY

host & DJ Robin Thomas
performance by Andres Bravo & Carolina Juarena AND Orlando Reyes & Adriana Salgado

Saturday February 20th, 2016 @ DanceSport: 22 West 34th St (btwn 5th & 6th Aves), New York, NY
Saturday January 16th, 2016 @ DanceSport: 22 West 34th St (btwn 5th & 6th Aves), New York, NY
Saturday December 19th, 2015 @ DanceSport: 22 West 34th St (btwn 5th & 6th Aves), New York, NY

host & DJ Robin Thomas
class & performance by Kat Gorsuch & Andres Amarillo

Saturday November 22nd, 2015 @ DanceSport: 22 West 34th St (btwn 5th & 6th Aves), New York, NY

host & DJ Robin Thomas
class & performance by Maria Elena Ybarra & Ariel J Saavedra

Saturday October 17th, 2015 @ DanceSport: 22 West 34th St (btwn 5th & 6th Aves), New York, NY

host & DJ Robin Thomas
class & performance by Ivan Terazzas & Sara Grdan

Saturday September 18th, 2015 @ DanceSport: 22 West 34th St (btwn 5th & 6th Aves), New York, NY

host & DJ Robin Thomas
class by Alex Krebs
performance by Alex Krebs & Evan Griffiths

Saturday August 15th, 2015 @ DanceSport: 22 West 34th St (btwn 5th & 6th Aves), New York, NY

host & DJ Robin Thomas
class & performance by Claudio Villagra & Helena Fernandez

Saturday July 19th, 2015 @ DanceSport: 22 West 34th St (btwn 5th & 6th Aves), New York, NY

host Robin Thomas
DJ Shorey Myers
performance by Michael Nadtochi & Eleonora Kalganova

Saturday June 20th, 2015 @ DanceSport: 22 West 34th St (btwn 5th & 6th Aves), New York, NY

host & DJ Robin Thomas
performance by Noelia Barsi & Leo Sardello

Saturday May 16th, 2015 @ DanceSport: 22 West 34th St (btwn 5th & 6th Aves), New York, NY

host Robin Thomas
DJ Ramu Pyreddy
class & performance by Yanick Wyler & Eugenia Parrilla

Saturday April 18th, 2015 @ DanceSport: 22 West 34th St (btwn 5th & 6th Aves), New York, NY

host & DJ Robin Thomas
performance by Virginia Pandolfi & Jonatan Aguero
class by Xavier Vanier & Jesse Roach

Saturday March 21st, 2015 @ DanceSport: 22 West 34th St (btwn 5th & 6th Aves), New York, NY

host & DJ Robin Thomas
performance by Melina Brufman & Sergio Diaz Thomas

Saturday February 21st, 2015 @ DanceSport: 22 West 34th St (btwn 5th & 6th Aves), New York, NY

host & DJ & class taught by Robin Thomas !

Saturday January 17th, 2015 @ DanceSport: 22 West 34th St (btwn 5th & 6th Aves), New York, NY

host Robin Thomas
DJ Jay Abling
class & performance by Dominic Bridge & Cecilia Piccinni

Saturday December 20th, 2014 @ DanceSport: 22 West 34th St (btwn 5th & 6th Aves), New York, NY

host & DJ Robin Thomas
class & performance by Nick & Diana

Saturday November 15th, 2014 @ DanceSport: 22 West 34th St (btwn 5th & 6th Aves), New York, NY

host & DJ Robin Thomas
class & performance by Sara Grdan & Ivan Terrazas

Saturday October 19th, 2014 @ DanceSport: 22 West 34th St (btwn 5th & 6th Aves), New York, NY

host Robin Thomas
DJ Jay Abling
class by Xavier Vanier & Michelle Lamb
performance by Leandro Oliver & Laila Rezk

Saturday September 20th, 2014 @ DanceSport: 22 West 34th St (btwn 5th & 6th Aves), New York, NY

host & DJ Robin Thomas
class by Alex Krebs
performance by Alex Krebs & Evan Griffiths

Saturday August 17th, 2014 @ DanceSport: 22 West 34th St (btwn 5th & 6th Aves), New York, NY

host & DJ Robin Thomas
class by Luis Adrian Bianchi & Daniela Pucci
performance by Gabriel Misse & Analia Centurion

Saturday July 19th, 2014 @ DanceSport: 22 West 34th St (btwn 5th & 6th Aves), New York, NY

host & DJ Robin Thomas
class & performance by Edwin Cardenas & Rita de Blasio

Saturday June 21st, 2014 @ DanceSport: 22 West 34th St (btwn 5th & 6th Aves), New York, NY

host Robin Thomas, jet lagged
guest DJ Travis Widrick
class by Eric Lindgren

Saturday May 17th, 2014 @ DanceSport: 22 West 34th St (btwn 5th & 6th Aves), New York, NY

guest host Jesse Roach
guest DJ Shorey Myers
class & performance by Martin Maldonado & Maurizio Ghella
absent Robin Thomas who will be in China

Saturday April 19th, 2014 @ DanceSport: 22 West 34th St (btwn 5th & 6th Aves), New York, NY

host Robin Thomas
guest DJ Jay Abling
class & performance by Sven & Sonja from Belgium
and performance by El Chino & Kat Gorsuch

Saturday March 15th, 2014 @ DanceSport: 22 West 34th St (btwn 5th & 6th Aves), New York, NY

host & DJ Robin Thomas
class by Robin Thomas
performance by Roberto Herrera & Laura Legazcue

Saturday February 15th, 2014 @ DanceSport: 22 West 34th St (btwn 5th & 6th Aves), New York, NY

host & DJ Robin Thomas
class by Robin Thomas
performance by Carolina Jaurena & Andres Bravo

Saturday January 18th, 2014 @ DanceSport: 22 West 34th St (btwn 5th & 6th Aves), New York, NY

host Robin Thomas
guest DJ Travis Widrick
class & performance by Geoffre Dominessy & Maria Elena Ybarra

Saturday December 21st, 2013 @ DanceSport: 22 West 34th St (btwn 5th & 6th Aves), New York, NY

host & DJ Robin Thomas
class & performance by Homer & Cristina Ladas

Saturday November 16th, 2013 @ DanceSport: 22 West 34th St (btwn 5th & 6th Aves), New York, NY

host & DJ Robin Thomas
class & performance by Ivan Terrazas & Sara Grdan

Saturday October 19th, 2013 @ DanceSport: 22 West 34th St (btwn 5th & 6th Aves), New York, NY

host & DJ Robin Thomas
class & performance by Carlos & Eliana

Saturday September 21st, 2013 @ DanceSport: 22 West 34th St (btwn 5th & 6th Aves), New York, NY

host Robin Thomas
DJ Shorey Myers
class & performance by Alex Krebs & Rebecca Rorick Smith

Saturday August 17th, 2013 @ DanceSport: 22 West 34th St (btwn 5th & 6th Aves), New York, NY

host Robin Thomas
DJ Lung-Kuei Lin
class & performance by Luis Bianchi & Daniela Pucci

Saturday July 20th, 2013 @ DanceSport: 22 West 34th St (btwn 5th & 6th Aves), New York, NY

host & DJ Robin Thomas
class & performance by Cristian Correa & Angeles Chanaha

Saturday June 15th, 2013 @ DanceSport: 22 West 34th St (btwn 5th & 6th Aves), New York, NY

host & DJ Robin Thomas
class & performance by Tate Di Chiazza & Celi Arias

Saturday May 18th, 2013 @ DanceSport: 22 West 34th St (btwn 5th & 6th Aves), New York, NY

host Robin Thomas
guest DJ Lung-Kuei Lin
class & performance by Luis Bianchi & Daniela Pucci

Saturday April 20th, 2013 @ DanceSport: 22 West 34th St (btwn 5th & 6th Aves), New York, NY

host & DJ Robin Thomas
class & performance by Gustavo Benzecry Sabá & Maria Olivera

Saturday March 16th, 2013 @ DanceSport: 22 West 34th St (btwn 5th & 6th Aves), New York, NY

host & DJ Robin Thomas
class & performance by Hugo Mastrolorenzo & Angeles Chanaha

Saturday February 16th, 2013 @ DanceSport: 22 West 34th St (btwn 5th & 6th Aves), New York, NY

host & DJ Robin Thomas
class & performance by Hiba Faisal & René Hellemons

Saturday January 19th, 2013 @ DanceSport: 22 West 34th St (btwn 5th & 6th Aves), New York, NY

host & DJ Robin Thomas
class by Hernan Prieto & Daniela Roig
performance by Mariano "Chicho" Frumboli & Juana Sepulveda !!!

Saturday December 15th, 2012 @ DanceSport: 22 West 34th St (btwn 5th & 6th Aves), New York, NY

host & DJ Robin Thomas
class & performance by Orlando Reyes & Adriana Salgado

Saturday November 17th, 2012 @ DanceSport: 22 West 34th St (btwn 5th & 6th Aves), New York, NY

host Robin Thomas
guest DJ Avik Basu
class & performance by Ivan Terrazas & Sara Grdan

Saturday October 20th, 2012 @ DanceSport: 22 West 34th St (btwn 5th & 6th Aves), New York, NY

host & DJ Robin Thomas
class & performance by Murat & Michelle Erdemsel

Saturday September 15th, 2012 @ DanceSport: 22 West 34th St (btwn 5th & 6th Aves), New York, NY

host & DJ Robin Thomas
performance by Alex Krebs & Rebecca Rorick Smith
class by Eric Jorissen & Alex Krebs

Saturday August 18th, 2012 @ DanceSport: 22 West 34th St (btwn 5th & 6th Aves), New York, NY

host & DJ Robin Thomas
performance & class by Adam & Ciko

Saturday July 21st, 2012 @ DanceSport: 22 West 34th St (btwn 5th & 6th Aves), New York, NY

host & DJ Robin Thomas
performance by Carlos Barrionuevo & Mayte Valdes

Saturday June 16th, 2012 @ DanceSport: 22 West 34th St (btwn 5th & 6th Aves), New York, NY

host Robin Thomas
class & performance by Tomas Howlin & Shorey Myers

Saturday May 19th, 2012 @ DanceSport: 22 West 34th St (btwn 5th & 6th Aves), New York, NY

host & DJ Robin Thomas
class & performance by Guillermo & Ciko

Saturday April 21st, 2012 @ DanceSport: 22 West 34th St (btwn 5th & 6th Aves), New York, NY

host Robin Thomas
guest DJ Ramu Pyreddy
class & performance by Javier Antar & Kara Wenham

Saturday March 17th, 2012 @ DanceSport: 22 West 34th St (btwn 5th & 6th Aves), New York, NY

host & DJ Robin Thomas
class & performance by Diego Blanco & Ana Padron

Saturday February 18th, 2012 @ DanceSport: 22 West 34th St (btwn 5th & 6th Aves), New York, NY

host & DJ Robin Thomas
class & performance by Eric Lindgren & Rebecca Rorick Smith from Boston

Saturday January 20th, 2012 @ DanceSport: 22 West 34th St (btwn 5th & 6th Aves), New York, NY

host & DJ Robin Thomas
class & performance by Fernando Troncoso from La Plata & Sabina Wolfson from New York City

Saturday December 17th, 2011 @ DanceSport: 22 West 34th St (btwn 5th & 6th Aves), New York, NY

host & DJ Robin Thomas
class & performance by Maria Blanco & Sebastian Acosta

Saturday November 19th, 2011 @ DanceSport: 22 West 34th St (btwn 5th & 6th Aves), New York, NY

host & DJ Robin Thomas
class & performance by Ivan & Sara

Saturday October 15th, 2011 @ DanceSport: 22 West 34th St (btwn 5th & 6th Aves), New York, NY

host & DJ Robin Thomas
class & performance by Homer & Cristina Ladas

Saturday September 17th, 2011 @ DanceSport: 22 West 34th St (btwn 5th & 6th Aves), New York, NY

host & DJ Robin Thomas
class & performance by Jaimes Friedgen & Christa Rodriguez

Saturday August 20th, 2011 @ DanceSport: 22 West 34th St (btwn 5th & 6th Aves), New York, NY

host & DJ Robin Thomas
class & performance by Lucas Molina Gazcon & Cecilia Piccinni

Saturday July 16th, 2011 @ DanceSport: 22 West 34th St (btwn 5th & 6th Aves), New York, NY

host & DJ Robin Thomas
class & performance by Dominic Bridge & Maria Elena Ybarra

Saturday June 18th, 2011 @ DanceSport: 22 West 34th St (btwn 5th & 6th Aves), New York, NY

host & DJ Robin Thomas
class & performance by Kat Gorsuch & Adam Hoopengardner

Saturday May 21st, 2011 @ DanceSport: 22 West 34th St (btwn 5th & 6th Aves), New York, NY

host & DJ Robin Thomas
class & performance by Ivan Inofre & Cyrena Drusine

Saturday April 16th, 2011 @ DanceSport: 22 West 34th St (btwn 5th & 6th Aves), New York, NY
Saturday March 19th, 2011 @ DanceSport: 22 West 34th St (btwn 5th & 6th Aves), New York, NY

host & DJ Robin Thomas
performance Luis & Daniela

Saturday February 19th, 2011 @ DanceSport: 22 West 34th St (btwn 5th & 6th Aves), New York, NY

host & DJ Robin Thomas
performance & class by Adam & Ciko

Saturday January 15th, 2011 @ DanceSport: 22 West 34th St (btwn 5th & 6th Aves), New York, NY

host & DJ Robin Thomas
performance & class by Daniela Roig & Hernan Prieto from Buenos Aires

Saturday December 18th, 2010 @ DanceSport: 22 West 34th St (btwn 5th & 6th Aves), New York, NY

host & DJ Robin Thomas
performance & class by Brian Nguyen & Yuliana Basmajyan from LA

Saturday November 20th, 2010 @ DanceSport: 22 West 34th St (btwn 5th & 6th Aves), New York, NY

host & DJ Robin Thomas
performance & class by Jorge Nel

Saturday October 16th, 2010 @ DanceSport: 22 West 34th St (btwn 5th & 6th Aves), New York, NY

host & DJ Robin Thomas
performance & class by Mila Vigdorova & Dani Tuero

Saturday September 18th, 2010 @ DanceSport: 22 West 34th St (btwn 5th & 6th Aves), New York, NY

host & DJ Robin Thomas
performance & class by Eric Lindgren & Rebecca Rorick Smith

Saturday August 21st, 2010 @ DanceSport: 22 West 34th St (btwn 5th & 6th Aves), New York, NY
Saturday July 17th, 2010 @ DanceSport: 22 West 34th St (btwn 5th & 6th Aves), New York, NY

host & DJ Robin Thomas
performance by Pablo Inza & Nazarena Colombo
class & performance by Andrew David Burt & Aja Fenn

Saturday June 19th, 2010 @ DanceSport: 22 West 34th St (btwn 5th & 6th Aves), New York, NY

host & DJ Robin Thomas
class & performance by Daniel Carlsson & Anna Solakius from Tango Kompaniet Malmö Sweden

Saturday May 15th, 2010 @ DanceSport: 22 West 34th St (btwn 5th & 6th Aves), New York, NY

host & DJ Robin Thomas
class & performance by Alex Krebs from Portland

Saturday April 17th, 2010 @ DanceSport: 22 West 34th St (btwn 5th & 6th Aves), New York, NY

host & DJ Robin Thomas
class & performance by Javier Antar & Kara Wenham

Saturday March 20th, 2010 @ DanceSport: 22 West 34th St (btwn 5th & 6th Aves), New York, NY

host & DJ Robin Thomas
class & performance by Carlos & Tova Moreno

Saturday February 20th, 2010 @ DanceSport: 22 West 34th St (btwn 5th & 6th Aves), New York, NY

host & DJ Robin Thomas
class & performance by Patricia & Matteo

Saturday January 16th, 2010 @ DanceSport: 22 West 34th St (btwn 5th & 6th Aves), New York, NY

host & DJ Robin Thomas
class by Nick Jones
performance by Nick Jones & Rebecca Shulman

Saturday December 19th, 2009 @ DanceSport: 22 West 34th St (btwn 5th & 6th Aves), New York, NY

host & DJ Robin Thomas
class & performance by Felipe & Rosa

Saturday November 21st, 2009 @ DanceSport: 22 West 34th St (btwn 5th & 6th Aves), New York, NY

host & DJ Robin Thomas
class & performance by Melina Sedó & Detlef Engel (Germany)

Saturday October 17th, 2009 @ DanceSport: 22 West 34th St (btwn 5th & 6th Aves), New York, NY

host & DJ Robin Thomas
class by Korey Ireland (Kansas City)
performance by Korey Ireland (Kansas City) & Brigitte Winkler (Berlin)

Saturday September 19th, 2009 @ DanceSport: 22 West 34th St (btwn 5th & 6th Aves), New York, NY

host & DJ Robin Thomas
class & performance by Nick Jones (Denver)

Saturday August 15th, 2009 @ DanceSport: 22 West 34th St (btwn 5th & 6th Aves), New York, NY

host Robin Thomas
guest DJ Shorey Myers from San Francisco
class & performance by Adam Hoopengardner & Cigdem Tanik (Ciko) from NYC
special guests Dave Jones & Ariel Amber from Denver and Damian Thompson from Australia

Saturday July 18th, 2009 @ @ DanceSport: 22 West 34th St (btwn 5th & 6th Aves), New York, NY

host & DJ Robin Thomas
class & performance by Sean Dockery & Charity Lebron from Berkeley

Saturday June 20th, 2009 @ DanceSport: 22 West 34th St (btwn 5th & 6th Aves), New York, NY

host & DJ Robin Thomas
class & performance by German Salvatierra

May 16th, 2009 @ DanceSport: 22 West 34th St (btwn 5th & 6th Aves), New York, NY

host & DJ Robin Thomas
class & performance by Murat & Michelle Erdemsel of DC / Turkey / Hawaii

April 18th, 2009 @ DanceSport: 22 West 34th St (btwn 5th & 6th Aves), New York, NY

host & DJ Robin Thomas
class & performance by René Hellemons & Hiba Faisal of London

March 21st, 2009 @ DanceSport: 22 West 34th St (btwn 5th & 6th Aves), New York, NY

host & DJ Robin Thomas
class by Robin Thomas & Kyla Mares
performance by Daniela Pucci & Luis Bianchi

February 21st, 2009 @ DanceSport: 22 West 34th St (btwn 5th & 6th Aves), New York, NY

host & DJ Robin Thomas
class & performance by Marcela & Stefano of Torino, Italy

January 17th, 2009 @ DanceSport: 22 West 34th St (btwn 5th & 6th Aves), New York, NY

host & DJ Robin Thomas
class & performance by Eric Lindgren & Rebecca Rorick Smith from Portland

December 20th, 2008 @ DanceSport (22 W 34th St, NYC)

host & DJ Robin Thomas
class & performance by Avik Basu of Ann Arbor

November 15th, 2008 @ DanceSport (22 W 34th St, NYC)

host & DJ Robin Thomas
class & performance by Somer & Agape

October 18th, 2008 @ DanceSport (22 W 34th St, NYC)

Obamalonga: Robin Thomas' Tango Noc turn Obama into president fundraiser!
guest host & DJ Adam Hoopengardner of NYC

September 20th, 2008 @ DanceSport (22 W 34th St, NYC)

host & DJ Robin Thomas
class & performance by Claudio & Agustina
performance by Raphael Baron & Renée Fieck of Montreal

August 16, 2008 @ DanceSport (22 W 34th St, NYC)

host & DJ Robin Thomas
class & performance by Nick Jones of Denver & Rebecca Shulman

July 19, 2008 @ DanceSport (22 W 34th St, NYC)

host & DJ & class by Robin Thomas
performance by Diana del Valle & Juan Camerlingo of Buenos Aires

June 21, 2008 @ DanceSport (22 W 34th St, NYC)

host & DJ Robin Thomas
class by Robin Thomas & Kyla Mares of NYC

May 17, 2008 @ DanceSport (22 W 34th St, NYC)

guest host Lung-Kuei Lin
DJ Evan Griffiths of NYC
class & performance by Silvina Valz & Oliver Kolker of Buenos Aires / NYC

April 19, 2008 @ DanceSport (22 W 34th St, NYC)

guest host & DJ Adam Hoopengardner of NYC
class & performance by Andres Amarilla & Meredith Klein of Buenos Aires / Philadelphia

March 15, 2008 @ DanceSport (22 W 34th St, NYC)

guest host & DJ Adam Hoopengardner of NYC
class & performance by Jennifer Olson & Damian Lobato

February 16, 2008 @ DanceSport (22 W 34th St, NYC)

guest host Ko Tanaka
DJ Tine Herreman of Yale/NYC
class by Andres Amarilla of Buenos Aires / Philadelphia

January 19th, 2008 @ DanceSport (22 W 34th St, NYC)

guest host Ko Tanaka
DJ Tine Herreman of Yale/NYC
class by Eric Lindgren
performance by Eric Lindgren & Rebecca Shulman

December 15th, 2007 @ Empire Dance (127 W 25th St, NYC)

guest hosts Adam & Ciko
DJ Felipe Martinez of Madrid / San Francisco
class & performance by Carol Horowitz & Julio Otero of Montreal
performance by Murat & Michelle Erdemsel of DC / Turkey / Hawaii

November 17th, 2007 @ Empire Dance (127 W 25th St, NYC)

guest host Ciko!
DJ Avik Basu of Ann Arbor
class & performance by Felipe Martinez & Rosa Corisco of Madrid / San Francisco
performance by Avik Basu of Ann Arbor & Marika Landry of Montreal

October 20th, 2007 @ Empire Dance (127 W 25th St, NYC)

guest host Sarah La Rocca
DJ Evan Griffiths of NYC
class & performance by Sharna Fabiano & Isaac Oboka of DC

September 15th, 2007 @ Empire Dance (127 W 25th St, NYC)

host & DJ Robin Thomas
Comme il Faut shoes sold by JuliaBella

August 18th, 2007 @ Empire Dance (127 W 25th St, NYC)

host Robin Thomas
DJ Shorey Myers of SF
class & performance by Nick Jones & partner of Denver
performance by Sharna Fabiano & Isaac Oboka of DC
with creative consultants Sherri & Stephane Villeneuve of Montreal and Carlos & Tova Moreno of Boston

July 21st, 2007 @ Empire Dance (127 W 25th St, NYC)

host Robin Thomas
class and performance by Sara Grdan & Ivan Terrazas
Comme il Faut shoes sold by JuliaBella

June 16th, 2007 @ Empire Dance (127 W 25th St, NYC)

host & DJ Robin Thomas
class by Oliver Kolker of Buenos Aires / NYC
performance by Silvina Valz & Oliver Kolker of Buenos Aires / NYC
Comme il Faut shoes sold by JuliaBella

May 19th, 2007 @ Empire Dance (127 W 25th St, NYC)

host Robin Thomas
DJ Shorey Myers
class and performance by Adam & Ciko of NYC

April 21st, 2007 @ Empire Dance (127 W 25th St, NYC)

host Robin Thomas
DJ Shorey Myers
class by Shorey Myers
performance by Evan Griffiths & Shorey Myers

February 17th, 2007 @ Empire Dance (127 W 25th St, NYC)

guest host Sarah La Rocca
DJ Ben Bogart of Providence
class and performance by Ben Bogart & Thuy Lam of Providence

January 20th, 2007 @ Empire Dance (127 W 25th St, NYC)

host & DJ Robin Thomas
class and performance by Carlos & Tova Moreno of Boston
performance by Adam & Ciko of NYC
beautiful shoes sold by Carrie Whipple of Portland
tarot and chart readings by Lexa Rosean

December 16th, 2006 @ Empire Dance (127 W 25th St, NYC)

host Robin Thomas
DJ Ramu Pyreddy of Ann Arbor
class and performance by Murat & Michelle Erdemsel of NYC/Turkey/DC/Hawaii
Comme il Faut shoes sold by JuliaBella
tarot and chart readings by Lexa Rosean

November 18th, 2006 @ Empire Dance (127 W 25th St, NYC)

host & DJ Robin Thomas
class and performance by Felipe Martinez & Rosa Corisco of San Francisco
performance by Sharna Fabiano of DC & Isaac Oboka of everywhere

October 21st, 2006 @ Empire Dance (127 W 25th St, NYC)

guest host & DJ Adam Hoopengardner
class and performance by Carlos & Tova Moreno of Boston

September 16th, 2006 @ Empire Dance (127 W 25th St, NYC)

host & DJ Robin Thomas
class and performance by Luis Bruni & Daniela Farfaras

August 19, 2006 @ Empire Dance (127 W 25th St, NYC)

host & DJ Robin Thomas
class and performance by Marika & Bulent of Montreal

July 15, 2006 @ Empire Dance (127 W 25th St, NYC)

host & DJ Robin Thomas
class by Evan Griffiths of Eugene, Oregon
performance by Evan Griffiths & Rebecca Shulman
performance by Burak of Chicago & Rui Saito of Buenos Aires/Tokyo
celebration of Rumiko's birthday!

June 17, 2006 @ Empire Dance (127 W 25th St, NYC)

host & DJ Robin Thomas
class and performance by Nick & Tara of Denver

May 20, 2006 @ Empire Dance (127 W 25th St, NYC)

host Robin Thomas
DJ Shorey Myers of Portland
class and performance by Sherri & Steph (aka "pants") of Montreal
performance by Isaac Oboka of Denver & Shorey Myers of Portland

April 15, 2006 @ Empire Dance (127 W 25th St, NYC)

host Robin Thomas
DJ Shorey Myers of Portland
class and performance by Greg & Lera of Seattle
performance by Felipe Martinez of San Francisco & Anne-Sophie Ville of DC
for your amusement, Isaac Oboka of Denver

February 18, 2006 @ Empire Dance (127 W 25th St, NYC)

guest host Adam Hoopengardner
DJ Tine Herreman of Yale/NYC
class and performance by Carlos & Tova Moreno

January 21, 2006 @ Empire Dance (127 W 25th St, NYC)

host & DJ Robin Thomas
class and performance by George & Jairelbhi Furlong
performance by Dario Da Silva & Claire

2005 @ Empire Dance (127 W 25th St, NYC) —

Hung-Yut Chen
Somer Surgit & Agape Pappas
Korey Ireland & Mila Vigdorova
Constantine Rueger
Murat Erdemsel & Mariana Galassi
Oliver Kolker & Luna Palacios
Ney Melo & Mariana Fresno
Jaimes Friedgen
Avik Basu
Ramu Pyreddy